Toyota New Land Cruiser Equipped with AISIN Group's New Technologies for Improving Reliability, Durability and Off-road Performance
Newly developed products
・ Adjustable damping force absorber system, which helps to improve the Land Cruiser's essence of "reliability, durability and off-road performance"
・ Direct Shift-10AT, which achieves both driving performance and environmental performance, ensuring reliability and durability under harsh conditions
AISIN's new products have been adopted in Toyota's new Land Cruiser, which was released on August 2, 2021.
The new technologies adopted in the new Land Cruiser, such as the next-generation off-road control (Crawl Control), the adjustable damping force absorber system, and the caliper combined electric parking brake for large-sized cars, help to improve the Land Cruiser's essence of "reliability, durability and off-road performance," while creating a riding experience that enables the driver to drive with ease on any type of road around the world without tiring easily.
AISIN will continue promoting engineering development aimed at improving the environment and society, and realize its philosophy of "inspiring 'movement,' creating tomorrow."
■
Adjustable damping force absorber system
As the system supplier of this product, AISIN has been working on the development since 2012, and has achieved higher performance capabilities by developing an algorithm for estimating vehicle conditions accurately, an absorber with a wide adjustable range of damping force, and an ECU for optimum control as a system.
AISIN newly developed a control system for off-road driving, improving off-road performance and vehicle stability on rocks and other rough road surfaces by appropriately controlling damping force independently for each wheel so that the damping force for contact wheels and noncontact wheels can be adjusted to high and low, respectively.
The absorber developed jointly with Hitachi Astemo, Ltd. has a mechanism whereby damping force can be independently adjusted on the expansion and contraction sides, which had been adjusted in a common mechanism, to enable more appropriate damping force control, achieving both excellent maneuverability and a higher level of riding comfort. By embedding this mechanism in the absorber, size reduction has been achieved compared to conventional products.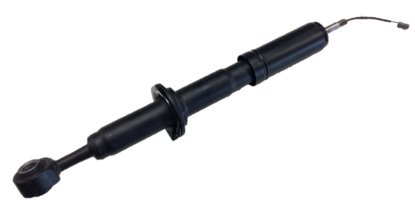 ■
Direct Shift-10AT (10-speed automatic transmission)
This is a newly developed 10-speed automatic transmission that achieves both the highest driving and environmental performance levels in the class while ensuring reliability and durability befitting the Land Cruiser under harsh conditions across the world.
Incorporating technologies for realizing efficiency improvement and weight reduction of components has improved fuel economy. This cross-ratio transmission* has improved acceleration performance in the pursuit of a more attractive cruising performance as an SUV.
* Reducing the change in engine speed (rpm) before and after the gear shift by making the gear steps smaller (closer)